My Team
When you became Frank Di Meglio's client, you placed your trust in him to help make your vision a reality.
Frank honors that trust with the help of his expert support staff. Together, they made a strong commitment to client service.
If at any time you have a question, concern or need, please contact Brieana DiLodovico directly.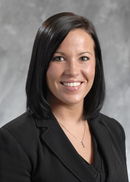 Brieana M DiLodovico
Associate Financial Representative
Office 609-951-8700

Brieana started her career with Northwestern Mutual in 2011 and has served in various capacities throughout the agency. She joined Frank Di Meglio's team in 2017 and has not looked back. Brieana holds her New Jersey state license in Life, Health, Annuity and Long-Term Care. As Frank's Associate Financial Representative and Director of Operations, she assists in all aspects of the business. Brieana oversees the insurance and investment underwriting, she assists in the design of our client's financial plans and manages the daily operations of the team and the district. Her main goal is the maintain the level of service our clients expect and deserve.
In her free time, Brieana enjoys spending time with family and friends. She is married to a Wealth Management Advisor within our firm and has a beautiful 1-year old daughter who is the light of her life.